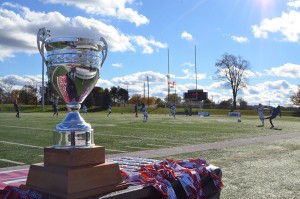 Semifinals of the CSL Championship will be played this coming Sunday, October 23 when FC Ukraine United will meet SerbianWhite Eagles at Esther Shiner Stadium in North York at 5 pm and York Region Shooters will take on Hamilton City at the St. Joan of Arc Stadium in Maple, a 6.30 pm start.
York Region are First Division winners in the regular season just ended and are hoping to repeat their CSL Championship victory of 2014, while Hamilton City is bidding for the overall league title for the first time.
Serbian White Eagles won the CSL Championship in 2008 and their opponents, Ukraine United, are in their first year of professional soccer, ending the regular season in the First Division runner-up position and now making this initial bid for CSL post season honours.
The Second Division Championship Final which ends the season for a division of four reserve teams from the First Division clubs together with SC Waterloo and London City, will be played at Esther Shiner Stadium this coming Saturday, October 22 and the finalists are Toronto Atomic B and York Region Shooters B.
Toronto Atomic reserves ended their regular season in second spot in the Second Division, then defeated Brantford Galaxy B in the semifinal, while York Region Shooters reserves finished fourth of six teams, then defeated SC Waterloo in the semifinal.  The 1-0 victory by York Region over top of the table team SC Waterloo on October 16 is a consideration in attempting to decide which team will finish on top of what promises to be an exciting season-end finish.
The CSL Championship Final is being played at Birchmount Stadium on Sunday, October 30, a 2 pm kickoff, following the CSL Awards banquet which takes place Saturday afternoon, October 29. Tickets for both events can be obtained by calling the CSL office at 905 607-0600.
CSL PLAYOFFS SUMMARY
The weekend games:
 SECOND DIVISION CHAMPIONSHIP FINAL
Sat. October 22, Esther Shiner Stadium 3 pm Toronto Atomic B vs York Region Shooters B
 CSL CHAMPIONSHIP SEMIFINALS
Sun. October 23, Esther Shiner Stadium 5 pm FC Ukraine United vs Serbian White Eagles
Sun. October 23, St. Joan of Arc Stadium 6.30 pm York Region Shooters vs Hamilton City
CSL CHAMPIONSHIP RESULTS TO DATE
 Quarterfinals
York Region Shooters 5, Milton 0
Hamilton City 3, Scarborough SC 0
FC Ukraine United 3, Brantford Galaxy 0
Serbian White Eagles 1, Toronto Atomic FC 0
CSL SECOND DIVISION CHAMPIONSHIP RESULTS TO DATE
SC Waterloo and Toronto Atomic FC B gained a bye to the semifinals
Quarterfinals
Brantford Galaxy B 3, Serbian White Eagles B 2 (after extra time)
York Region Shooters B 1, London City 0
 Semifinals
York Region Shooters B 1, SC Waterloo B 0
Toronto Atomic B 2, Brantford Galaxy B 0