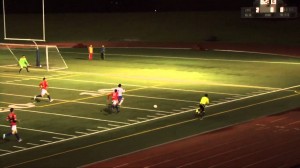 First half goals by Oleh Kerchu and Iaroslav Solonynko assured FC Vorkuta of maintaining its unbeaten streak with a 2-1 victory over SC Waterloo, York Region Shooters defeated Brantford Galaxy, also by a 2-1 score and Royal Toronto struck twice late in the game to tie Milton SC 4-4, three games in the Canadian Soccer League First Division over the weekend.
FC Vorkuta led by a 2-0 score at halftime in the Saturday game at Esther Shiner Stadium and Jure Glavina struck for Waterloo in the second half for the 2-1 result.
FC Vorkuta and York Region Shooters are tied each with 17 points in the First Division standings, one point behind first place Serbian White Eagles who remain at 18 points while idle over the weekend.
Evan Butler scored a late winner at 85 minutes for York Region in the 2-1 away win over the Galaxy at Lions Park in Brantford, also played on Saturday.
Luka Grgic opened the scoring for Royal Toronto just one minute after the kickoff and Mateo Beslic made it 2-0 five minutes later in the game with Milton SC at The Soccer Center at Vaughan Sunday night.
Ivan Juric struck for Milton at 9 minutes and Adnan Smajic tied the game 2-2 just before the interval.
James Natham gave Milton a 3-2 lead at 50 minutes and Scott Damion Tristan made it 4-2 at 65 minutes.
Royal Toronto's Dario Brezak reduced the lead to 4-3 at 75 minutes and Dymtro Chyzhevsky struck for Milton at the 80 minute mark for a 4-4 tie.
There were four games in the CSL Second Division over the weekend, Serbian White Eagles B controlled Royal Toronto B 7-0, but Serbian White Eagles B went down 3-0 in their second game over the weekend, losing 3-0 to Brantford Galaxy B on Saturday.
FC Vorkuta B defeated SC Waterloo B 3-0 and in the late game Sunday night Ukraine United B played to a scoreless tie with Burlington SC B.