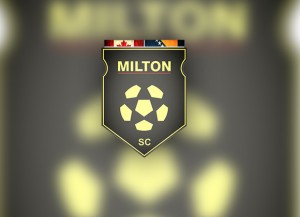 Milton SC is the final team to clinch a playoff berth following a 4-3 victory over Brantford Galaxy, Toronto Croatia nipped London City 1-0 and the SC Waterloo vs Niagara United game was abandoned after 65 minutes with the score 2-2, three games in the CSL First Division Sunday.
Midfielder Adrian Smajic led Milton with three goals in the game with Brantford Galaxy, scoring at 10, 53 and the winning goal at 77 minutes for the hat-trick and increasing his season tally to nine goals.
Forward Lucky Maghori scored for Milton at 21 minutes, Zdenko Jurcevic struck for Brantford Galaxy one minute later and again at 27 minutes for 21 goals on the season, Armin Mahovic for the Galaxy at 68 minutes.
Milton end the season in seventh position in the standings with a 8-11-3 WLT record for 27 points, while Brantford Galaxy have 7-12-3 record for 24 points in eleventh position.
Ivan Cutura scored the lone goal at 88 minutes to complete the regular season with a win for Toronto Croatia over London City. Toronto Croatia finished with an impressive 15-4-3 record for 48 points, while London City ended in eighth position in the table with a 8-12-2 record for 26 points.
Aleksandar Stojiljkovic and Mladen Zeljkovic were the goalscorers for SC Waterloo, while Jacob Therrien and Noah Dino found the net for Niagara United in the game abandoned after 65 minutes.
Niagara United were reduced to eight men after three players were shown the red card and one SC Waterloo player was also ejected.
The game will be reviewed by the league to establish a result.
There was one game in the CSL Second Division with Milton SC B and Toronto Atomic playing to a 4-4 draw.
THE CSL CHAMPIONSHIP PLAYOFFS – UPDATE
Eight First Division teams have secured playoff spots. They are Serbian White Eagles, Toronto Croatia, SC Waterloo, York Region Shooters, Toronto Atomic FC, London City, Burlington SC and Milton SC.
Eight teams have also secured berths to playoff for the Second Division Championship. They are SC Waterloo B, York Region Shooters B, Milton SC B, Burlington SC B, Brantford Galaxy B, Toronto Atomic FC B, Niagara United B and Serbian White Eagles B.
The opening quarterfinal games will be announced early this coming week to kickoff Thanksgiving Weekend, October 9 -12 and will be arranged in order of a team's position in the final standings: 1 vs 8, 2 vs 7, 3 vs 6 and 4 vs 5.
The top four teams in the standings have home advantage in the quarterfinals and the top four teams to advance will also have home field advantage in the semifinals.
Serbian White Eagles, Toronto Croatia, SC Waterloo and York Region Shooters will have home advantage in the CSL Championship, while SC Waterloo B, York Region Shooters B, Milton SC B and Burlington SC B will have home advantage in the Second Division
All games in the playoffs, including the final, will play 2 x 15 minutes of extra time if the score at the end of regulation time is tied. If still tied at the end of extra time, penalty kicks will be taken as per FIFA rules.