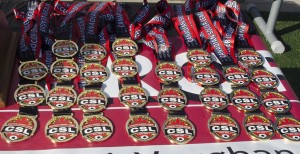 Serbian White Eagles scored a 5-3 extra time victory over  SC Waterloo, FC Vorkuta defeated Royal Toronto FC 6-3, Scarborough SC eliminated Brantford Galaxy 6-2 and York Region Shooters will advance to the semifinals after the game with Milton SC was cancelled in the CSL Championship quarterfinal playoffs  over the weekend.
Forward Jure Glavina scored two first half goals for SC Waterloo in the game with Serbian White Eagles, the outcome of which was in doubt with a 2-2 tie at the interval  and 3-3 deadlock at the end of regulation time at Centennial Stadium Friday night.  Miroslav Jovanovic struck twice for Serbian White Eagles during extra time to give the home side the 5-3 victory.
With FC Vorkuta leading 5-2 at halftime there was little doubt about the outcome of the quarterfinal game with Royal Toronto FC at the Soccer Centre in Vaughan Saturday. Sergii lvlev and Oleh Shutov each score twice for Vorkuta during that first half period and Oleh Kerchu  scoring the fifth.  Volodymyr Rudyi hit the sixth goal for the winners in the second half.  Dario Brezak scored twice in the first half for Royal Toronto and Adrian Bembridge found the net for Royals' goal number three, a 6-3 score at the final whistle.
The CSL First Division top scorer Aleksander Stojiljkovic led Scarborough with two goals in the 6-2 victory over Brantford Galaxy at Birchmount Stadium Saturday.  Miroslav Cabrilo also scored twice in a losing cause for the Galaxy.
In CSL Second Division Championship games, FC Vorkuta B defeated SC Waterloo B  5-0, Brantford Galaxy B eliminated Serbian White Eagles B 2-1 and the Burlington SC  B vs. Royal Toronto B was postponed.  Ukraine United B gained a bye to the semifinals.
Semifinal games will be played the weekend September 22.
FIRST DIVISION – THE CSL CHAMPIONSHIP – Quarterfinals
Serbian White Eagles 5, SC Waterloo 3 – AFTER EXTRA TIME
FC Vorkuta 6,  Royal Toronto FC 3
Scarborough SC 6,  Brantford Galaxy 2
York Region Shooters vs Milton SC –   Cancelled
SECOND DIVISION CHAMPIONSHIP – Quarterfinals
Ukraine United B gained a bye to the semifinals
Brantford Galaxy B 2, Serbian White Eagles B 1
FC Vorkuta B 5, SC Waterloo B 0
Burlington SC B vs Royal Toronto FC B –  POSTPONED