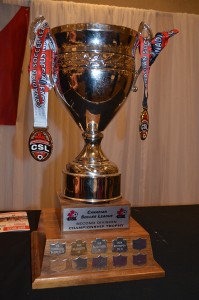 York Region Shooters and Hamilton City advanced to the semifinals of the CSL Championship playoffs Sunday, York Region scoring an emphatic 5-0 victory over Milton SC while Hamilton City defeated Scarborough SC 3-0.
Gerard Ladiyou opened the scoring for York Region Shooters at the St. Joan of Arc Stadium, the goal coming at 4 minutes, Ainsley Deer made it 2-0 at 13 minutes, Anthony Bahadur increased the lead for the home side to 3-0 at 17 minutes and Tristan Frankson scored for a 4-0 lead at 23 minutes, the score at the interval.
Striker Richard West found the net for York Region at 52 minutes for a 5-0 score which held to the final whistle.
Timotej Zakrajsek scored first for Hamilton City at Birchmount Stadium in Scarborough, the goal coming at 23 minutes, forward Zdenko Jurcevic made it 2-0 for the visitors with a goal from the penalty spot following a foul in the box at 31 minutes, a 2-0 score at halftime.
Frane Grbesa completed the scoring for Hamilton at 78 minutes a 3-0 victory for Hamilton.
The reserve teams of York Region Shooters  and Toronto Atomic will meet in the CSL Second Division Championship final following the 1-0 defeat by York Region Shooters B over SC Waterloo and 2-0 victory by Toronto Atomic B over Brantford Galaxy B Sunday.
Simon Petersen scored the only goal for York Region Shooters B at Woodside Park, finding the net at the 12th minute mark and the goal held up through to the final whistle.
Luija Johnson struck the first goal at 20 minutes for Toronto Atomic  B in the game at Centennial Park and Michael Fayehun made it 2-0 at the 90th minute.
The CSL Second Division Championship Final venue will be announced early the week of October 17.
CSL PLAYOFFS SUMMARY
CSL Championship – Quarterfinals games played Sunday, October 16
York Region Shooters 5, Milton 0
Hamilton City 3, Scarborough SC 0
Quarterfinal games played October 15:
FC Ukraine United 3, Brantford Galaxy 0
Serbian White Eagles 1, Toronto Atomic FC 0
FC Ukraine United, Serbian White Eagles, York Region Shooters and  Hamilton City advance to the CSL Championship semifinals to be played the weekend October 21-23, venues to be announced.
CSL SECOND DIVISION CHAMPIONSHIP 
SC Waterloo and Toronto Atomic FC B gained a bye to the semifinals played October 16
CSL Second Division Championship – Semifinal games played October 16:
York Region Shooters B 1, SC Waterloo B 0
Toronto Atomic B 2, Brantford Galaxy B 0
Quarterfinals played October 9
Brantford Galaxy B 3, Serbian White Eagles B 2 (after extra time)
York Region Shooters B 1, London City 0
York Region Shooters B and Toronto Atomic B advance to the CSL Second Division Championship Final, the venue to be announced.