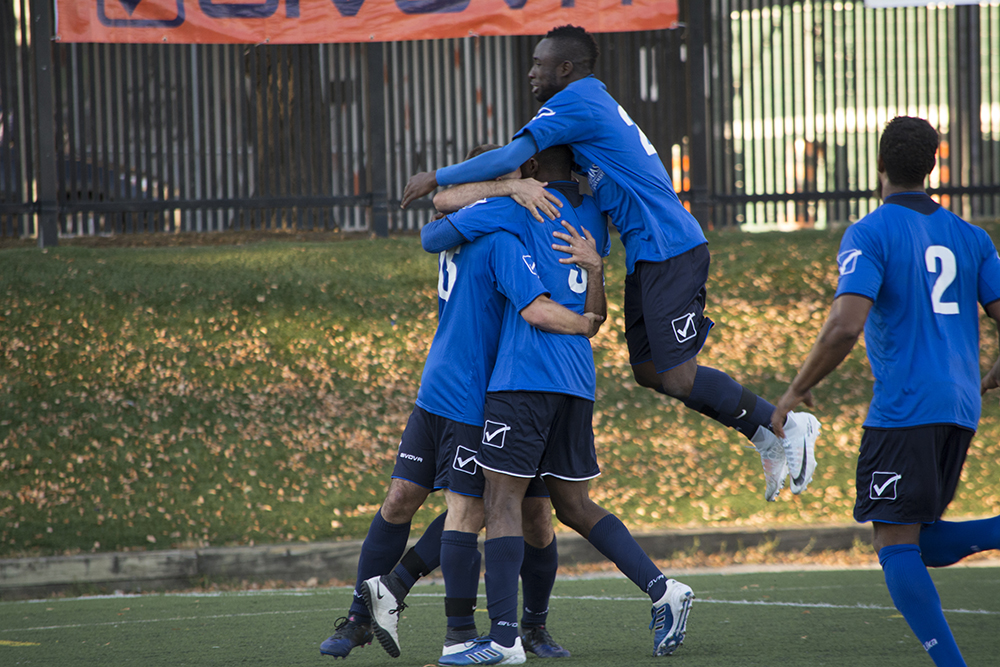 When Tony De Thomasis took the leap from the community to professional soccer in 2003, his Vaughan Shooters won lots of first prizes for finishing second, both in the outdoor Canadian Professional Soccer League and in the Ontario Men's Futsal Championship. That will change, he vowed, it's just a matter of time.
The big wins arrived in 2008 and again in 2014 and York Region Shooters won the CSL Championship yet again with a 5-4 penalty kick victory over Scarborough SC at Lamport Stadium in Toronto on Saturday afternoon.
It was touch and go throughout. Scoreless at halftime, York Region took a 1-0 lead at 51 minutes when Evan Beutler found the Scarborough net past goalkeeper Milos Djurkovic and just 10 minutes later Haris Fazlagic put the ball past York Region goalkeeper Adam Majer.
It was 1-1 at the end of regulation time and two periods of overtime, leading to penalty kicks which led to York Region taking the championship on a  5-4 decision.
In the earlier game, FC Ukraine United maintained its remarkable regular season success by sweeping through the playoffs to defeat Burlington SC 5-2 in the CSL Second Division Championship Final.
Ukraine ended the regular season on top of the Second Division standings  undefeated with an impressive 13-0-1 WLT record, 9 points clear of second place Burlington.  After gaining a bye in the playoff quarterfinals, Ukraine dominated its semifinal opposition Brantford Galaxy by a 6-0 score, leading to Saturday's championship victory over Burlington.
Midfielder Taras Hromiak struck two for the winners, with Pavlo Lukianets, Roman Pitsur and Yevhen Falkovskyi also finding the net for Ukraine United in the 5-2 final score.
Burlington goals were scored by Brandon Wellington and Amardo Oakley, both from the penalty spot called by referee Javier Prior for fouls in the box. Referee Prior later ejected Ukraine defender Ivan Kucherenko at 80 minutes following a second caution.
PLAYOFFS SUMMARY
CSL CHAMPIONSHIP – Final
York Region Shooters 1, Scarborough SC 1
(York Region Shooters win 5-4 on penalty kicks)
CSL CHAMPIONSHIP – Semifinals
York Region Shooters 2, Serbian White Eagles 1
Scarborough SC 1, FC Vorkuta 0
CSL CHAMPIONSHIP – Quarterfinals
Serbian White Eagles 5, SC Waterloo 3 – AFTER EXTRA TIME
FC Vorkuta 6, Royal Toronto FC 3
Scarborough SC 6,  Brantford Galaxy 2
York Region Shooters 3,  Milton SC  0
SECOND DIVISION CHAMPIONSHIP – Final
FC Ukraine United 5, Burlington SC 2
SECOND DIVISION CHAMPIONSHIP – Semifinals
Burlington SC  B  4, FC Vorkuta B 1
FC Ukraine United B  6,  Brantford Galaxy B 0
SECOND DIVISION CHAMPIONSHIP – Quarterfinals
Ukraine United B gained a bye to the semifinals
Brantford Galaxy B 2, Serbian White Eagles B 1
FC Vorkuta B 5, SC Waterloo B 0
Burlington SC B  3, Royal Toronto FC B  0