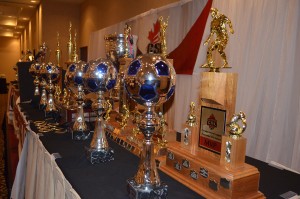 York Region Shooters and Scarborough SC will meet for the CSL Championship at Lamport Stadium on Saturday, September 30, a 4.30 pm kickoff to follow the Second Division Championship game between Burlington SC B and FC Ukraine United B at 2 pm.
York Region defeated current CSL Champions Serbian White Eagles 2-1 in the playoff semifinal on Friday night, while Scarborough SC eliminated FC Vorkuta 1-0 on Saturday. In the CSL Second Division Championship semifinals, Burlington SC B beat FC Vorkuta B, 4-1, and FC Ukraine United B dropped Brantford Galaxy B, 6-0.
Midfielder Hassan Abdulmumini opened the scoring for York Region Shooters at 22 minutes of the first half against Serbian White Eagles in ideal match conditions at Centennial Stadium in Etobicoke Friday night. It was an evenly contested encounter in the first half and  Serbian Eagles' forward Ivan Nikolic found the net past York Region goalkeeper Adrian Ibanez to tie the score at 35 minutes for a 1-1 score at half-time. Bryan Kavin blasted the winner into the roof of the net for a 2-1 score at 52 minutes and the score held to the final whistle to move the Vaughan-based club into the championship final.
It was a similar close contest at Esther Shiner Stadium on Saturday when Scarborough SC advanced to the CSL Championship final with a first half goal which held to the final whistle for a 1-0 victory. It will be Scarborough's first CSL Championship Final, while York Region Shooters will be bidding for a third title, having won the trophy in 2014 and in 2008 as Italia Shooters.
PLAYOFFS SUMMARY
CSL CHAMPIONSHIP – Semifinals
York Region Shooters 2, Serbian White Eagles 1
Scarborough SC 1, FC Vorkuta 0
 CSL CHAMPIONSHIP – Quarterfinals
Serbian White Eagles 5, SC Waterloo 3 – AFTER EXTRA TIME
FC Vorkuta 6, Royal Toronto FC 3
Scarborough SC 6,  Brantford Galaxy 2
York Region Shooters 3,  Milton SC  0
SECOND DIVISION CHAMPIONSHIP – Semifinals
Burlington SC  B  4, FC Vorkuta B 1
FC Ukraine United B  6,  Brantford Galaxy B 0
SECOND DIVISION CHAMPIONSHIP – Quarterfinals
Ukraine United B gained a bye to the semifinals
Brantford Galaxy B 2, Serbian White Eagles B 1
FC Vorkuta B 5, SC Waterloo B 0
Burlington SC B  3, Royal Toronto FC B  0