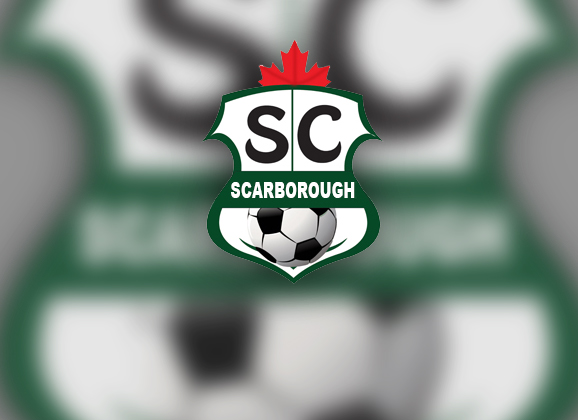 Scarborough SC and Toronto Atomic FC both improved their positions near the top of the CSL First Division with victories Saturday night, Scarborough defeating Hamilton City 4-2 while Toronto Atomic eased past Serbian White Eagles, 2-1.
There was one other game scheduled in the top division, the Brantford Galaxy vs Milton SC game was postponed due to heavy rains at Lions Park in Brantford.
Scarborough midfielder Adis Hasecic led his team with three goals against Hamilton City at Birchmount Stadium, scoring at 14, 50 and 60 minutes, his 8th, 9th and 10th of the season, while defender Zdravko Karadachki scored the fourth at 32 minutes. Scarborough led 2-1 at halftime. Hamilton City goals came from Miroslav Cabrilo and Maksin Boksic.
Scarborough takes possession of second place with a 8-6-3 WLT record for 27 points in the standings, while Hamilton City are at 6-8-4 for 22 points in fifth spot.
Serbian White Eagles striker Milos Scepanovic  opened the scoring for his side in the match against Toronto Atomic FC at Centennial Stadium, heading in from a corner kick at 25 minutes, but the 1-0 lead held up for just two minutes until Atomic's Ihor Melnyk  found the net to make it 1-1 at the  27th  minute mark. It was 1-1 at thebreak.
Bogdan Poliakhov struck the winner for Atomic at 76 minutes, beating goalkeeper Bojan Vranic of Serbian White Eagles and it was 2-1 at the final whistle.
Toronto Atomic take over third position in the table with an improved 7-6-5 record for 26 points, while Serbian White Eagles are in fourth position with 7-8-2 for 23 points.
There were two games in the CSL Second Division Saturday, Toronto Atomic FC B taking charge with a 5-1 victory over Serbian White Eagles B and York Region Shooters B outlasted Brantford Galaxy B, 5-4.
.