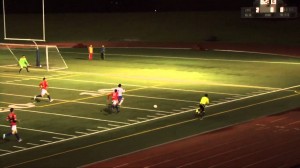 Midfielder Djordjije Jocic opened the scoring to give Serbian White Eagles a 1-0  lead at 75 minutes in the weekend's opening game in the CSL First Division played at Centennial Stadium at Etobicoke on Friday night, but Iourii Stepaniuk tied the game 1-1 at 93 minutes for Vorkuta. The goal came following a free kick by the visitors and miscue by the Serbian Eagles' defense that allowed Stepaniuk to find the net past Serbian Eagles' goalkeeper  Goran Skaric.
SC Scarborough traveled to the Kiwanis Field in Brantford for the first of two First Division games played Sunday and the Toronto team came away with a 5-2 victory over Brantford Galaxy, while in the late game at Centennial Stadium Royal Toronto were held to a 2-2 draw by  visiting SC Waterloo. Vladimir Zelenbaba and Drazen Vukovic struck first half goals for Waterloo, while Chris Simm scored twice in the second half to salvage a 2-2 draw for the home side.
There is one game scheduled for Monday night when York Region Shooters host Milton SC at the St. Joan of Arc Stadium at Maple, an 8.30 pm start.
There were four CSL Second Division games over the weekend, with Serbian White Eagles B winning a 7-6 squeaker over London City B at the Hellenic Centre in London, FC Vorkuta B also gained an away win with a 4-1 defeat of Royal Toronto B at the Lakeshore Sports Centre in Toronto, Burlington SC B dumped SC Waterloo B 7-2 and FC Ukraine United B dominated Brantford Galaxy B 10-0 at Centennial Stadium on Sunday.