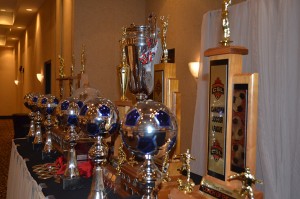 FC Ukraine United and Serbian White Eagles advanced to the semifinals of the CSL Championship playoffs with quarterfinal victories Saturday night, Ukraine United with a decisive 3-0 result over Brantford Galaxy and Serbian White Eagles with a narrow 1-0 score over Toronto Atomic FC.
Oleksandr Muzychuk was the first to score for Ukraine United at Esther Shiner Stadium in Toronto, taking a right wing pass from midfielder Kostiantyn Derevlov to find the net past Galaxy 'keeper Luka Besenic to score from 6 yards, the goal coming close to the halftime whistle and it was 1-0 at the break.
Oleh Shutov made it 2-0 for the home side at 49 minutes, a free kick from outside the box that caught the top left corner leaving Besenic with no chance for a save.
Derevlov struck the third goal for Ukraine United driving the ball into the net past substitute goalkeeper Jeff Martins following a breakaway at the 80th minute mark.
Krum Bigishkrov missed narrowly for Brantford on two occasions in what was otherwise a deserved victory for Ukraine United, a 2016 expansion team in the CSL.
Striker Milos Scepanovic scored the only goal for Serbian White Eagles in the game with Toronto Atomic at Centennial Stadium, the goal coming at 60 minutes following a scoreless first half. Scepanovic picked up the ball following a miscue in the Atomic defence and found the net from four yards past goalkeeper Vasyl Shpuk.
PLAYOFF SUMMARY
CSL Championship – Quarterfinals
FC Ukraine United 3, Brantford Galaxy 0
Serbian White Eagles 1, Toronto Atomic FC 0
Ukraine United and Serbian White Eagles advance to the semifinals to be played the weekend October 21-23
Remaining quarterfinal games: 
Sun. October 16 St. Joan of Arc 6.30 pm York Region Shooters vs Milton SC
Sun. October 16 Birchmount Stadium 7.30 pm, Scarborough SC vs Hamilton City
CSL SECOND DIVISION CHAMPIONSHIP 
Results to date:
SC Waterloo and Toronto Atomic FC B gain a bye to semifinals October 16
Quarterfinals played October 9
Brantford Galaxy B 3, Serbian White Eagles B 2 (after extra time)
York Region Shooters B 1, London City 0
Winners advance to the semifinals October 16:
Upcoming semifinal games:
Sun. October 16 Woodside Park 6 pm SC Waterloo B vs York Region Shooters B
Sun. Oct. 16 Centennial Stadium 7 pm Toronto Atomic B vs Brantford Galaxy B